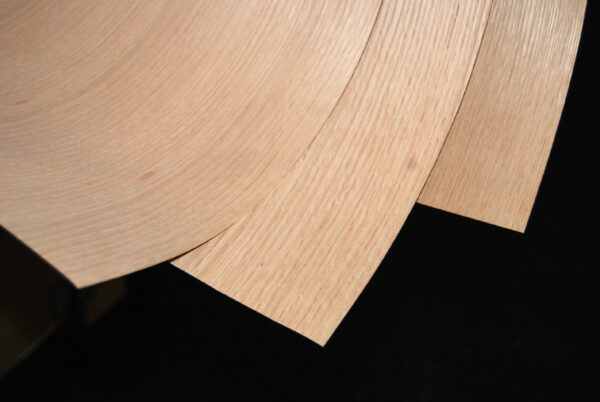 Sheet Veneer is real wood veneer sheets "laminated" to either a paper or wood backer. Ready to finish – this smooth and consistent surface accepts stains and finishes uniformly. Paper backed installation is user friendly – trim with scissor or razor knife, lay up with PVA glue or contact cement. Wood-backed installation is similar to that of high pressure laminate.
This product may be special ordered in bookmatched, sequenced and cross-grained versions.
Product Description
Features
Applications

These paper-backed flexible veneer sheets have been "flexed" for easy handling and contour work applications

Cabinet Refacing
Veneer Inlays
Exotic Species Furniture
Contour Veneer Work
Drum Tables
Application Notes
Finishing

Smooth, clean surface is essential
Apply adhesive per manufacturer's instructions
Use scraper tool or veneer roller (not a "J" roller)applying firm pressure in direction of grain
Apply oil/stain sparingly, wipe off immediately
Material should be stored flat
Prior to fabrication, allow material to acclimate to ambient conditions for 3 days

Wait 24 hours after laminating
Sand with a fine grit sandpaper
10 Mil Paper Back – Flexible
30 Mil Paper Back – Flexible
| Thickness | Size | Item | Description |
| --- | --- | --- | --- |
| 30MM | 48″ X 96″ | 87493 | MAPLE |
Wood-Backed (Wood To Wood)
Polyback
Our Suppliers
Below are our suppliers for the products shown on this page. Please visit these links for detailed product specifications.