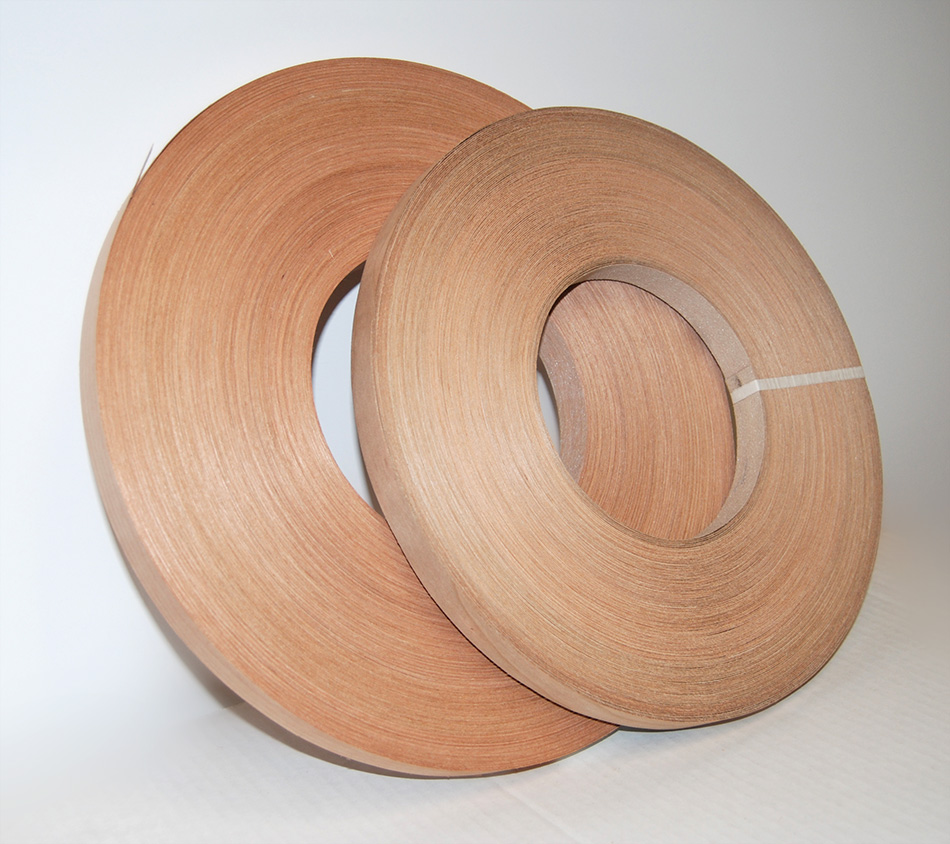 Continuous veneer rolls (CVR) 500' in length, for automatic edgebanders. Selected and graded veneers are end matched for color and grain consistency, then finger jointed and laminated to a continuous fleece membrane. The rolls are then fine sanded for improved finishing.
Features
Selected and graded veneers
Standard industry grade
Economical
Requires glue – see application specs on edgebanding glues in this section
Options & Special Orders
Available in 5/8″ to 2″ widths
PVA coating, cut to size and no fleece backing
Ask for a free laminate cross-reference guide
Fleece Edge CVR (Thickness: .018″)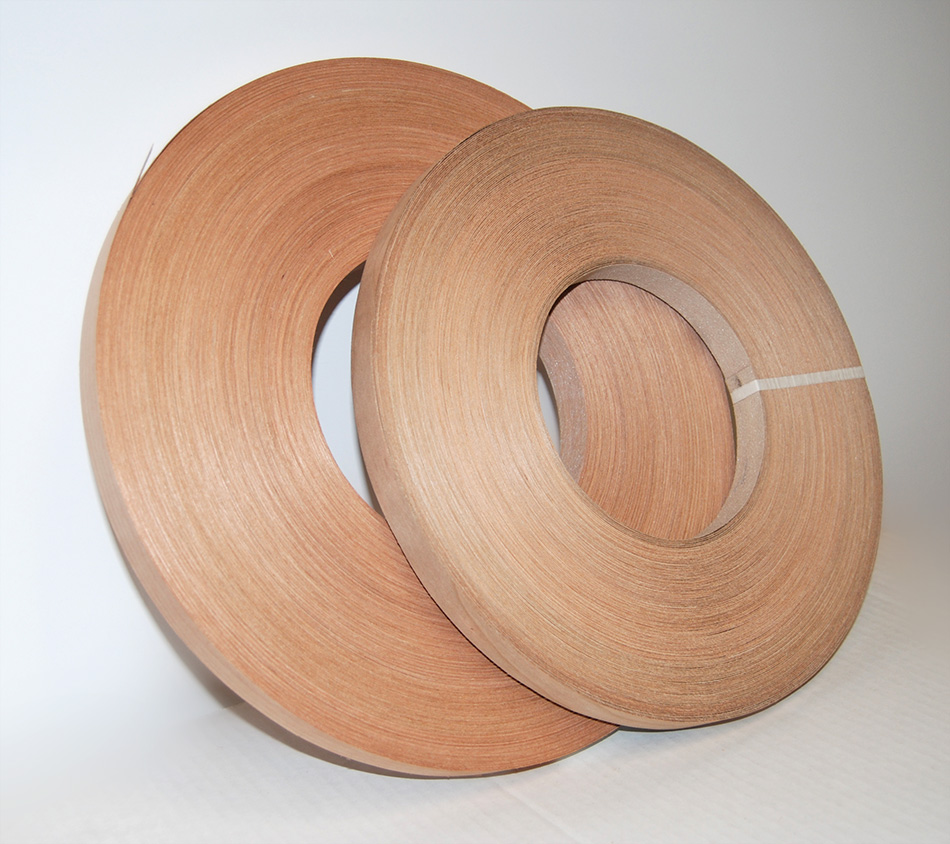 Preglued continuous veneer rolls. The finest veneers are selected and finger jointed into continuous coils and then fleece laminated. The edging is then sanded and flexed to produce a thin (.018" thick), highly flexible veneer that is fast & easy to apply to any contour or shape.
Features
Easy to apply
Wraps contours and shapes
Trims cleanly and easily
Superior bonding strength
Fleece Edge CVR – Pre-Glued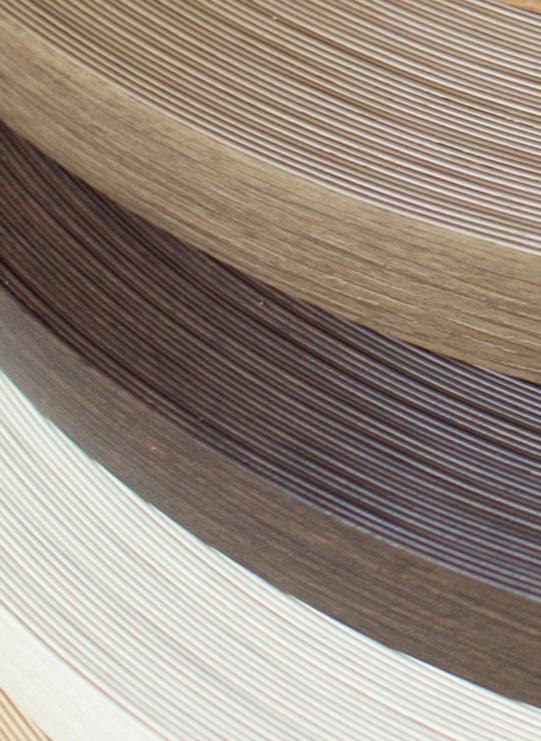 PVC is an extruded thermoplastic edgebanding offered in a wide range of widths ( 5/8" through 1-5/16"), thicknesses, colors, and patterns. All Woodtape PVC is pre-coated with a special primer to give a strong, tough, and durable bond.
ABS, like PVC, is a high-grade extruded thermoplastic edgebanding that's very durable against everyday knocks and scrapes, water, heat, and domestic cleaning products. It is also very flexible, being generally lighter in composition and density than PVC. Additionally, ABS is considered to be a more environmentally friendly alternative to other edgebanding materials since it's made without any chlorine or acids and can be disposed of in a safer, healthier way.
Features
Unlimited pattern range
U.V. cured topcoat
First quality resins – no regrind
Low / medium / high gloss
Over 500 items stocked locally and at the factory
PVC (Thickness: .018″)
Thick PVC (Thickness: 1mm)
PVC – Edgewood (Thickness: 1mm)
ABS – StevensWood (Thickness: 1mm)
PET – PanelArtz (Thickness: 1mm)
Note: PVC edgebanding, additional colors, and 42mm widths are available. Check with your sales rep for details.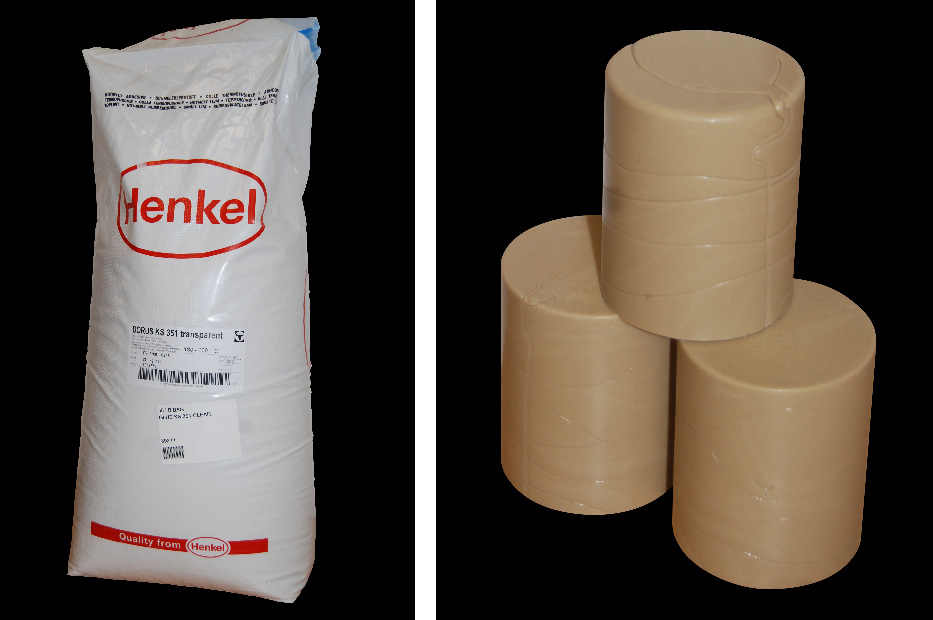 Edgebanding Glue
Size
Item
Description
55 LB BAG

89160
KS 205 NATURAL
89180
KS 205 WHITE
89260
KS 217 NATURAL
89240
KS 217 WHITE
89275
KS 224 NATURAL
89277
KS 351 CLEAR
.733 LBS, 45/CASE

89300
CARTRIDGE HKP 21 NATURAL
89340
CARTRIDGE HKP 25 NATURAL
89320
CARTRIDGE HKP 25 WHITE
Our Suppliers
Below are our suppliers for the products shown on this page. Please visit these links for detailed product specifications.